It's okay to ask when the popular Kung Fu Panda was made. Interestingly, it is the 97th on the list of movies released by DreamWorks Animation. 
Quick answer – Kung Fu Panda premiered in the United States on the  6th of June 2008. In addition, it was released on July 4, 2008.
Now, I'm sure your question is answered and your confusion is cleared. 
But wouldn't you love to read a short story about the movie? Let's get started!
Table of Contents
About Kung Fu Panda
The movie revolves around a fight to pick who the legendary dragon warrior would be among the Furious Five.
In addition, this legendary dragon will possess the nigh-supreme power.
Po Ping, a clumsy giant panda, and Kung Fu lover is interested to see the fight but was sent to deliver noodles.
His love for Kung Fu didn't let him return home, so he tried several ways to enter the competition hall.
His efforts proved unsuccessful until he strapped himself to a set of fireworks.  As a result, it brought him to the middle of the competition hall.
This happened at the same time Master Oogway wanted to select the new dragon warrior. Surprisingly, Po was chosen.
Po is overwhelmed and training was difficult for him due to his overweight. However, Master Oogway told him to never give up.
He tried his best and he became the best among the Furious Five.
In the end, Po impressed the Furious Five. He made all of them accept him as the new Dragon Warrior. 
Main Characters:
Po ( Jack Black)
Tigress (Angelina Jolie)
Master Shifu ( Dustin Hoffman)
Master Oogway ( Randall Duk Kim)
Mr. Ping ( James Hong)
Rotten Tomato Rating
Rotten Tomatoes is one of the most trusted online platforms for rating movies. 
Based on the site, Kung Fu Panda got a rating of:

Here are some notable comments on Tomato Meter:
Critics Consensus: 
"Kung Fu Panda has a familiar message, but the pleasing mix of humor, swift martial arts action, and colorful animation makes for winning Summer entertainment".
Tom Keogh (Seattle Times)
"The animation work is dazzling; it's lovingly detailed without being overdone (particularly the opening sequence, which is hand-drawn and looks like prints struck from ancient woodblocks)".

Joe Morgenstern (New York Times)
"The film settles into a succession of ritual spoofs of the kung fu genre, and peddles the sort of cloying preachments about self-esteem and human potential — panda potential — that little kids hear all the time on TV."

That being said, Kung Fu Panda got an amazing critic and audience score! If you want an action-packed movie to watch with your family, this is a great film to watch.
Is Kung Fu Panda Based on a True Story?
Many have suspicions that this movie series is actually based on a true story.
However, answers on GameFAQs about Kung Fu Panda explain that the film may be a true-life story.
But one thing is for sure. Kung Fu is a form of martial art, Pandas exist in real life and they are mostly found in China.
How Old is The Panda From Kung Fu Panda?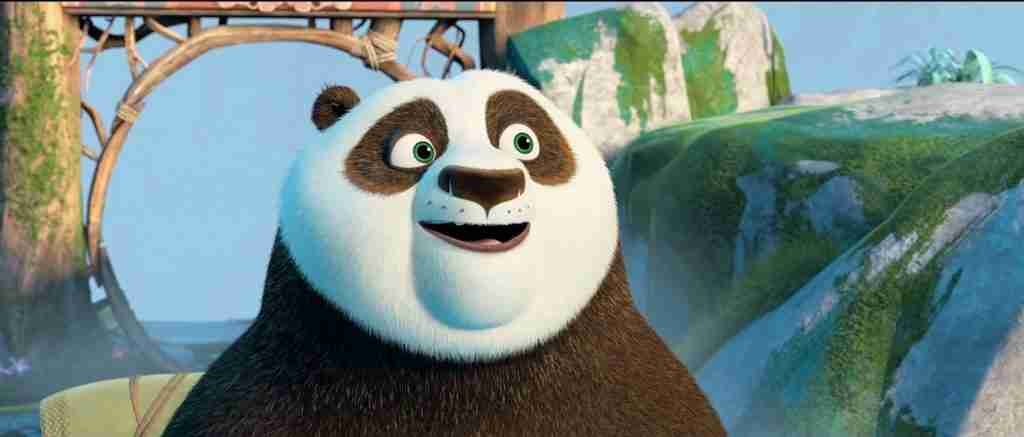 Po is the giant panda from Kung Fu Panda and he is in his twenties(20s).
This is indicated in the movie when Mr. Ping ( Po's adoptive father) told him the story of how he picked and raised him for 20 years.
In a behind-the-scenes commentary of Kung Fu Panda 3, a movie maker disclosed that Po is in his 20s.
Will There Be a Kung Fu Panda 4?
Yes, there will be a Kung Fu Panda 4. 
Although lots of reports claim that Kung Fu Panda 4 is canceled and won't be released. 
The movie producers stated that the movie would have been released in 2020 if not for the outbreak of the COVID-19 pandemic.
However, it is not the end of the road for Kung Fu Panda 4 as it will be released on the 28th of June, 2022 in the United States and 29th of June, 2022 in other countries.

READ OUR FULL GUIDE: IS THERE ANY KUNG FU PANDA 4?
Final Thoughts
You've learned that Kung Fu Panda premiered in the United States on the 6th of June 2008 and was released on the 4th of July, 2008.
The film is about Po, a giant panda who loved Kung Fu. Furthermore, the movie got a rating of 87% on Rotten Tomato. Overall, many audiences applauded Kung Fu Panda as a family animated movie.
As a result, this created many sequels.
Are you curious how many Kung Fu Panda Movies there are?  Click here to learn more!