Did you enjoy watching Kung Fu Panda 2 and are now interested in their next sequel?
In this article, we will answer the "who is in Kung Fu Panda 3" question and tell you all there is to know about the movie. Let's start reading.
Quick answer – Here are the people in Kung Fu Panda 3:
Jack Black as Po
Jackie Chan as Monkey
Angelina Jolie as Tigress
J. K. Simmons as Kai
James Hong as Mr. Ping
Dustin Hoffman as Master Shifu
Randall Duk Kim as Oogway
Lucy Liu as Viper
David Cross as Crane
Bryan Cranston as Li
Stephen Kearin as Chicken
Fred Tatasciore as Bear
Seth Rogen as Mantis
Jean-Claude Van Damme as Croc
Liam Knight as Lei Lei
Knox Jolie-Pitt as Ku Ku
Willie Geist as Sum
John Jolie-Pitt as Shuai Shuai
Barbara Dirickson as Grandma
Zahara Jolie-Pitt as Meng Meng
Kate Hudson as Mei Mei
Al Roker as Dim
Pax Jolie-Pitt as Yoo
Steele Gagnon as Bao
These are the list of characters and their voice cover actors in Kung Fu Panda 3.
Now that you've known who is in Kung Fu Panda 3, Don't you want to know the main villain in the movie.
Meet the Kung Fu Panda 3 Villain
Kai ( J.K Simmons)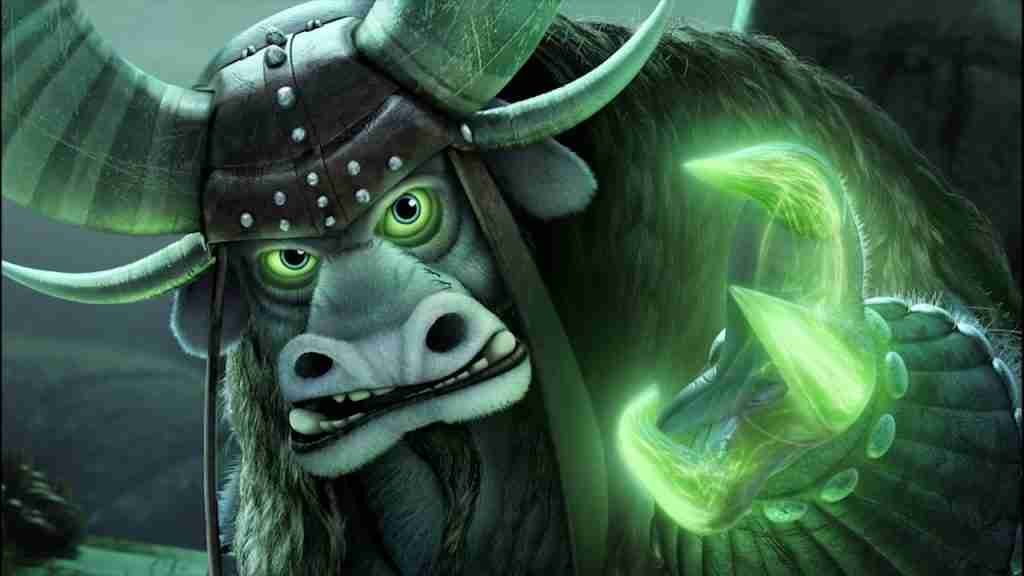 Kai was a very strong warrior and skillfully one of the greatest warriors known to have lived in China. 
In addition to this, at his younger age, his fighting skills as a champion had won him the crown of a warlord and he fought Oogway with that same strength.
Oogway was considered the strongest Kung Fu Master until the coming of Po the Dragon Warrior. Kai Challenged Oogway and the elderly tortoise banished him to the spirit realm.
Five hundred years later, evil Kai returned, becoming stronger than he was before, and was able to take hold of all the Kung Fu Masters in China and even defeat Oogway; though it was a self-surrender to him.
Kai acquired supernatural abilities and magical powers to steal other Kung Fu Warriors Chi, this was because of his delicate "spirit" physiology. 
His entire magic also made him a spiritual warrior giving him great immunity to tiredness, age, injuries, and sicknesses in the human sphere. 
However, this doesn't mean he can not be destroyed. Unfortunately for him, he was overpowered and defeated by Po (The Dragon Warrior).
What Animal is Kai in Kung Fu Panda 3?
The main villain of Kung Fu Panda 3, Kai (J.K Simmons) is a Bull.
Bulls are naturally muscular, with thicker bones and large bony heads. 
In addition, these features are typical of Kai. All these body features help him in his battles over the Kung Fu masters.
His trait of stubbornness is also not far-fetched from the character of a live bull. In fact, even until they defeat their prey they don't give up. 
Moreover, Kai displayed this by returning the second time after 500 years of imprisonment.
He came back to take his revenge. And until he takes down all the Kung Fu warriors, he will not get satisfied.
Why was Rebel Wilson Replaced in Kung Fu Panda 3?
A lot of rumor has been out there as regards why Rebel Wilson was replaced in Kung Fu Panda 3. Some people thought she fought with the producer of the movie.
But the truth about her replacement was due to an extension in the movie schedule which probably didn't suit her time. 
A reliable source inside the Hollywood family confirms that she pulled out because of the extension and immediately had to be replaced with Hudson. 
Now that Hudson has taken over the role of Wilson, the movie voicing will have to go back to the beginning in order not to differ the character's performance.
Is Kung Fu Panda 4 Coming?
Yes, Kung Fu Panda 4 is coming.
While several reports are saying that Kung Fu Panda 4 is canceled, the movie administrators stated clearly that the movie was originally planned to be released in 2020 to be available for viewers the following year (2021)
However, these plans were not successful due to the impact of the COVID-19 Pandemic affecting the entire entertainment industry; therefore the release date was changed.
Furthermore, Kung-Fu Panda 4 is scheduled to be released on 28th June 2022 in the United States and 29th June 2022 in other countries.

READ OUR COMPLETE GUIDE ON: IS KUNG FU PANDA 4 CANCELED? 
Final Thoughts
I'm sure you've learned the people in Kung Fu Panda 3, the likes of Jack Black as Po, Jackie Chan as Monkey, Angelina Jolie as Tigress, J. K. Simmons as Kai, etc.
You can now tell that Kai is a powerful bull and equally the main villain of Kung Fu Panda 3. 
His focus was to kill all the Kung Fu Masters and steal their Chi to add up to his own Chi and eventually become indestructible.
Though the COVID -19 pandemic led to a shift in the release date of Kung Fu Panda 4, eventually a new date has been listed for its release.
Furthermore, fans and lovers of the movie can now anticipate the adventure movie on 28th June 2022 in the United States and 29th June 2022 in other countries.
Do you want to know where to watch Kung Fu Panda 3 for FREE? Click here to learn more!