Giant pandas might be one of the rarest creatures on earth, but they draw so much attention with little effort. Wherever they go, they turn into celebrities overnight!
In this article, we'll be looking at the most famous giant pandas worldwide. Moreover, as a panda fan, you might find some names pretty familiar. 
Let's get started!
Chi Chi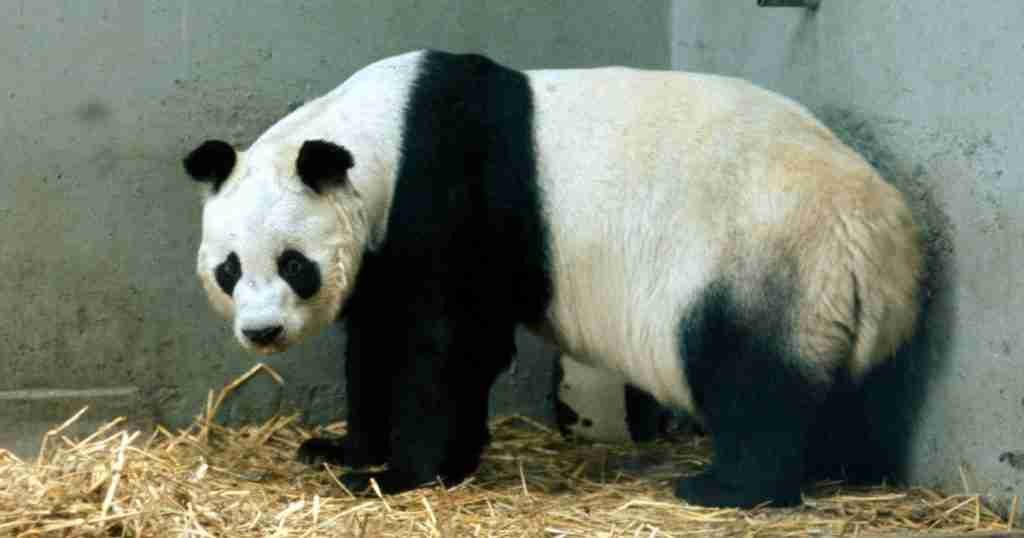 It wouldn't seem right to leave Chi Chi out of the list of the most famous giant pandas in the world. Chi Chi is one of the most popular female giant pandas in history. 
And at London Zoo where she stayed, she was a star attraction. She equally became England's favorite animal in the zoo. 
Interestingly, Chi Chi was the panda who inspired Sir Peter Scott in designing the first-ever logo of the WWF. It was a great honor and added to her fame. 
After she died in 1972, the nation didn't only mourn her but also made sure she'll be remembered. 
They stuffed her and placed her in London's National History Museum. There, people can still go to visit the remains of this famous panda.
RECOMMENDED READING: ARE THERE PANDAS IN LONDON ZOO? 
Ling Ling
Ling Ling is one of the oldest male captive pandas ever recorded. He was born in China on September 5, 1985. However, he spent most of his life at the Ueno Zoo (the Largest and oldest zoo in Japan). 
Not only was Ling Ling the first-ever giant panda in Japan, but also the property of Japan. Funny enough, his name was feminine as it meant in Chinese, "darling little girl". 
However, he was indeed a darling panda as he attracted many visitors to the Ueno Zoo. Japanese people just love cute things! They were so obsessed with Ling Ling right from his arrival till his death.
Fu Bao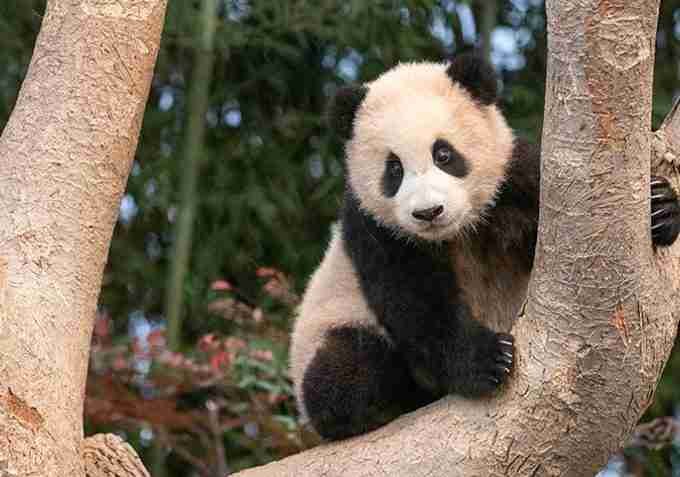 Fu Bao is a star panda that was born at the Everland Theme Park on July 20, 2020. She was equally the first panda to be born in South Korea, which made her very popular. 
However, her fame spread faster and she was all over the internet. This was mainly because of a viral video of her not letting go of a zookeeper's leg.
Watch the viral video here:
Fu Bao's growth rate was fast and she learned a lot from her mum pretty fast too. Her presence in the zoo draws a lot of visitors, which is much expected from a star like her.
READ ALSO: ARE THERE GIANT PANDAS IN SOUTH KOREA? 
Mei Xiang
Mei Xiang is a female panda living at the Smithsonian National Zoo. She was born on 22 July 1998 in the China Conservation and Research Center for Giant Panda. 
Mei Xiang is equally one of America's most beloved pandas. She and Tian Tian are the second pair of pandas the National zoo received from China. 
In addition, Mei Xiang had seven cubs in the Zoo, but only four survived. They are Tai Shan, Bao Bao, Bei Bei, Xiao Qi Ji.
After giving birth to Xiao Qi Ji, she was recognized as the oldest panda to give birth in the United States.
Tai Shan
This male panda is the first offspring of the famous Mei Xiang. He was born on July 9, 2005, at Smithsonian National Zoo. His siblings are Bao Bao, Bei Bei, and Xiao Qi Ji.
In addition, Tai Shan's first appearance drew lots of people to the zoo. And on many occasions, visitors queued up for hours just to have a peek at this panda. 
As a cub, he starred in different Animal Planet documentaries like "A Panda is Born" and "Baby Panda's First Year". 
Later on, he was sent back to China and currently lives in the China Conservation and Research Center (Dujiangyan Base).
Da Mao
Da Mao is a male giant panda that once lived in Canada. However, he was born in China on September 11, 2008. 
Furthermore, he stayed at Toronto Zoo before moving to the Calgary Zoo where he was until he was returned to China. His gentle and cheerful personality made him very famous in Canada. 
Da Mao is the mate to Er Shun (a famous female panda) and the father of the panda twins – Jia Pan Pan and Jia Yue Yue.
Er Shun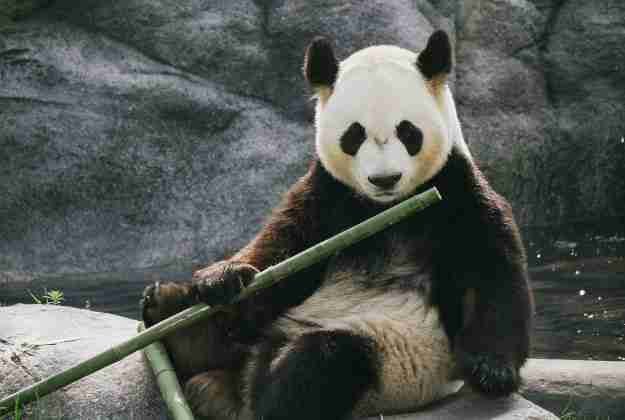 She is the first female giant panda in Canada. Er Shun was born on August 10, 2007, in China.
She's Da Mao's mate and together they produced the panda twins –  Jia Panpan and Jia Yueyue in Canada.
However, she alongside Da Mao and their cubs was sent back to China when the zoo could no longer take care of them. People in Canada loved her so much, but letting her go was the best thing to do.
Gu Gu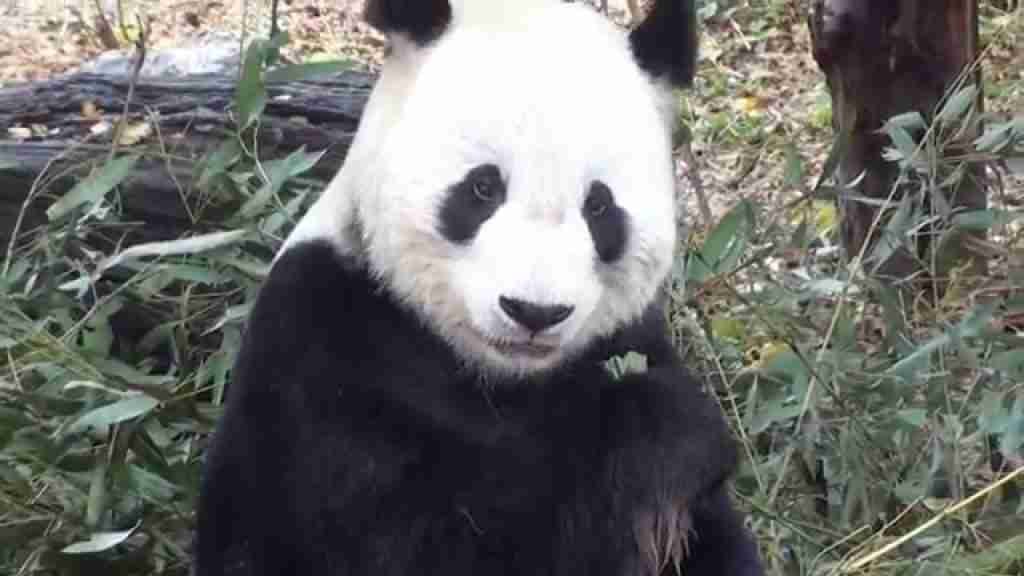 "Not your typical soft and cuddly giant panda" as CNN described him; Gu Gu was the center of attention! 
This male panda was born at the Wolong National Nature Reserve on September 25, 1999. However, he lives at Beijing Zoo currently. 
Gu Gu was fond of attacking zoo visitors that entered his enclosed area. His violent behavior even made him more popular.
He was quite territorial and didn't like people trespassing. Gu Gu sent three different people to the hospital on three different occasions. 
However, this did not stop visitors from coming to the zoo to see this star panda. He was just irresistible! 
Watch the video of Gu Gu Eating Bamboo Leaves
ALSO READ: ARE GIANT PANDAS AGGRESSIVE? 
Lun Lun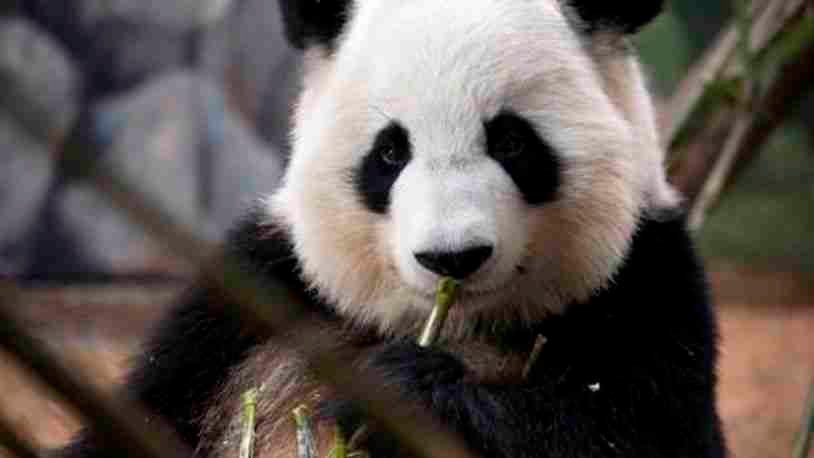 Lun Lun, formerly Hua Hua, is one of the female giant pandas in Zoo Atlanta, US. 
Her birth was in China at the Chengdu Research Base of Giant Panda Breeding. And this was on august 25, 1997. 
She came to Zoo Atlanta along with her mate, Yang Yang, in November 1999. Together, they had cubs in the zoo. 
Her first three cubs are Mei Lan (male), Xi Lan (male), and Po (female). She's the mother of two sets of twin panda cubs. Her first twin cubs were Mei Lun and Mei Huan (both females). 
Moreover, Ya Lun and Xi Lun (both females) are her second set of twin panda cubs. She increased the attendance of the zoo as many visitors filled the zoo often to see her and her cubs. 
Above all, Lun Lun is equally a major reason for Zoo Atlanta being the most successful in breeding pandas in the US.
Xiang Xiang
As a panda fan, you should always remember Xiang Xiang. He is the first-ever panda born in captivity and then released into the wild. And that's remarkable! 
Xiang Xiang also went through a training program where he learned skills that will help him survive in the wild. 
Not quite long after his release into the wild he died. It was suspected that a fall from a tree resulted in his death. 
However, you should know giant pandas are pretty clumsy, yet fall from trees countless times without getting hurt. Xiang Xiang's case was just different as he died when he fell from a tree. 
Pan Pan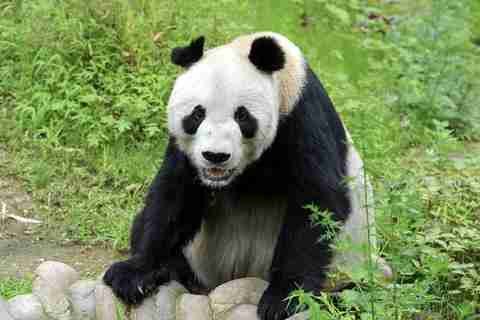 Pan Pan, which means "Hope", is an ancestor to so many giant pandas today. His descendants are over 130 and still counting.
This earned him the nickname, "Panda Grandpa". That's right! His gene flows through many captive pandas in the world today. Pan Pan was born in 1985 in Sichuan, China. 
However, he spent most of his life in China at the Giant Panda Protection and Research Centre (Chengdu). In addition, he was known as the oldest captive male panda at the time of his death.
Basi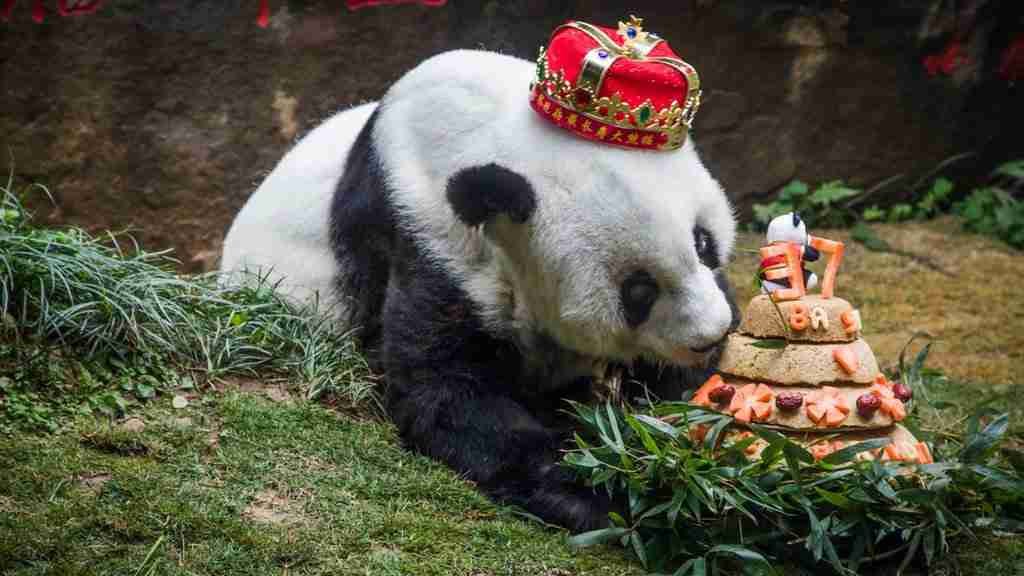 This female panda is among the most famous and captive giant pandas you should know about. This list would be incomplete without this highly celebrated panda.
Basi was born in 1980 and lived in the Straits Giant Panda Research and Exchange Center, Fuzhou.
Interestingly, she was the inspiration behind "Panpan" the mascot for the Beijing Asian games in 1990. She lived many years and was treated like royalty on her 37th birthday (last birthday)
Not quite long after her 37th birthday, she died on September 13, 2017. She also held the record for the oldest captive panda at that time.
Ming Ming
One of the most famous female giant pandas in the world was Ming Ming, which means "bright" in Chinese. She was born in China in 1977 but lived in many zoos afterward. 
Ming Ming lived at Dublin Zoo, Chengdu Zoo, and London Zoo. However, she spent the remaining few years of her life at the Xiangjiang Wild Animal World. 
And this was where she died. She was 34 and the world's oldest giant panda at the time of her death.
Yang Yang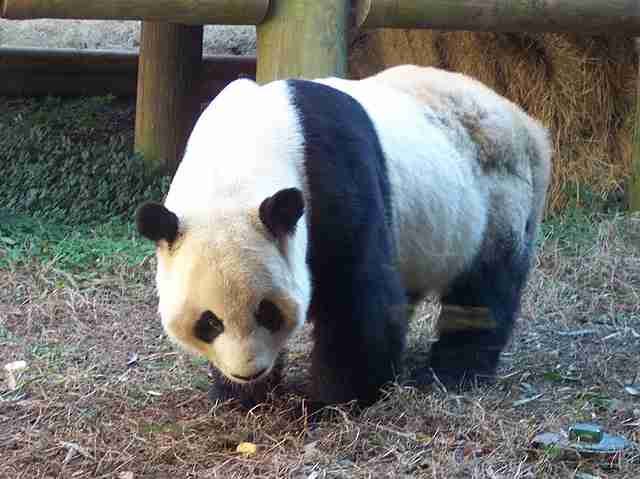 Yang Yang, formerly named Jiu Jiu, is another popular panda in the US. He came from his birth home in China to Zoo Atlanta with his mate, Lun Lun.
Yang Yang is the father of the first-ever twin panda cubs in the US – Mei Lun and Mei Huan. Male panda, September 9, 1997 (Zoo Atlanta) had a mate in the zoo, Lun Lun. 
His kids were Mei Lan, Xi Lan, Po (Bao Lan), Mei Lun, Mei Huan, Xi Lun, and Ya Lun. To date, he's one of the most famous giant pandas in the US.
Hua Mei
Another famous giant panda on our list is Hua Mei. She was one of the pandas that lived in the San Diego Zoo. 
This zoo was also her place of birth and that was on August 21, 1999. However, she was sent back to China and now lives in Bifengxia Panda Base. 
She's well known to be the first panda to reach adulthood while still living in the United States. Hu Mei also has a remarkable record for delivering three sets of twins in 3 years.
Ling Ling and Hsing Hsing
These pandas were a famous pair that lived in the Smithsonian National Zoo. Ling Ling (female) and Hsing Hsing (male) were gifts from China to the US.
In other words, they were China's diplomats of peace and goodwill. Interestingly, this panda duo arrived like superstars at the zoo accompanied by their bodyguards. That's just amazing! 
Moreover, the nation fell in love with the duo, and visitors never minded waiting in a long queue to see them. No doubt, these pandas were fascinating and made many happy.
Unfortunately, they both died in the zoo and this left the nation heartbroken. Ling Ling died first after experiencing heart failure. Later on, Hsing Hsing suffered kidney failure, which caused his death.
Final Thoughts
In summary, that's our list of the most famous giant pandas all around the world. In different ways, they were entertaining, inspiring, and a bundle of joy.
However, some of them have already passed away, but you can still visit many others today in zoos and conservation centers.
Besides, if you've not seen a real live panda before, It's worth it to travel to places where you can see these creatures. 
I'm sure, you'll be interested in them. In fact, it's what makes them famous! But remember, not all zoos keep pandas.
Click here to see zoos around the world with giant pandas including some of the most pandas we've mentioned.