Perhaps, you're planning a trip to Florida and you're just wondering if you'll find a black bear there. 
Here's a quick answer –
Black bears are a very common species of bears in Florida. Additionally, they live in almost every part of Florida. In fact, they are the only species of bears living in Florida.
Moreover, Black bears are also famous for being the largest land mammals in Florida!
Now you know that these bears are pretty common in Florida. In to this, you might be wondering how many black bears live in Florida. 
Let's find out below! 
Table of Contents
What is the Population of Black Bears in Florida?
According to the latest reports from the Florida Fish and Wildlife Conservation Commission (FWC) biologist, the black bear population in Florida is approximately 4,050. 
In addition, the population of these bears is changing from time to time. Many years back, the Florida black bears used to number about 12,000. 
However, about 50 years ago, their population was pretty low, at approximately 300 individuals. This was due to excessive hunting at that time. 
However, after a restriction was made on the hunting of these bears, the population of these bears began to recover. 
Black Bear Distribution in Florida
Before the early Europeans settled in Florida, black bears lived in every part of the Mainland and some of the coastal Islands in Florida. Now, black bears stay in eight habitats that are isolated throughout Florida. 
This range covers almost half the state!
In addition to this, black bears prefer a habitat in Florida that have a combination of swamps, flatwoods, scrub oak ridges, and hammock.
Nevertheless, despite being very common in the state, they can be hard to spot. One of the reasons is that they are pretty cautious of people and try as much as possible to keep a low profile. 
Moreover, if you're so eager to spot a black bear in Florida, you can head over to certain zoos in the state that houses black bears. These zoos include:
Brevard Zoo (Melbourne, FL)
Central Florida Zoo and Botanical Gardens (Lake Monroe, FL)
Ellie Schiller Homosassa Spring Wildlife State Park (Homosassa, FL)
Gulf Breeze Zoo (Gulf Breeze, FL)
Palm Beach Zoo & Conservation Society (West Palm Beach, FL)
Jacksonville Zoo and Gardens (Jacksonville, FL)
ZooTampa at Lowry Park (Tampa, FL)
Naples Zoo at Caribbean Gardens (Naples, FL)
Tallahassee Museum (Tallahassee, FL)
What Part of Florida Has the Most Black Bears?
The central part of Florida is the largest unit with a population of about 1,200 out of 4,050 bears in total. Moreover, a few other parts of Florida make up the population. 
There are about 1,060 black bears in the East Panhandle and about 1,040 black bears in the south of Florida.
Other parts of the state have lower numbers of bears with the big bend unit being the unit with the lowest number of bears.
To be more specific, a greater population of these bears lives on or near large Public lands in Florida regardless of what part of Florida it is. These core public lands include:
Okefenokee National Wildlife Refuge 
Big Cypress National Preserve
Are Black Bears the Only Bears in Florida?
Yes, black bears are the only species of bears living in Florida. This means you won't find grizzlies, polar bears, and any other species of bears in any part of Florida.
Furthermore, every zoo in Florida that keeps bears only houses black bears. 
What Time of the Year Are Black Bears Most Active in Florida?
Black bears in Florida are most active in late winter (around February) and spring (March-May) of the year. 
When black bears become active during this season, they move around in search of food. Hence, there is a high chance you will encounter them if you keep food exposed outside.
It equally doesn't matter if you're in your home or at your campsite, food can bring them around. Interestingly, a major target is garbage cans. 
Above all, when these seasons approach, you shouldn't be surprised to see a black bear in your yard. And it's equally important that you do not encourage this if it happens.
They're pretty good at remembering food sources. Hence, always scare them away so they don't keep on coming around. 
Related Questions:
Are Black Bears Endangered in Florida?
No, black bears are not endangered in Florida. They are no longer listed as a threatened species by the Florida Fish and Wildlife Conservation Commission. 
This status is an improvement on the black bear population as in the past they were endangered animals. As they recover, it remains an illegal act in the state to kill or even hurt these bears. 
According to reports, black bears were hunted and killed so much in 2015. In just two days, hunters killed about 304 bears.

This included very young black bears and nursing mothers. These kinds of acts threatened the existence of these creatures. 

Currently, in Florida, black bears face serious challenges. Most especially, their territory suffers reduction and fragmentation. This is due to encroaching developments such as roadways and residential communities. 

Only a single Florida black bear needs about 400,000 acres of land. And as the human population is expanding, the Florida black bears' habitat keeps reducing.
Is Florida Black Bears Different From Black Bears?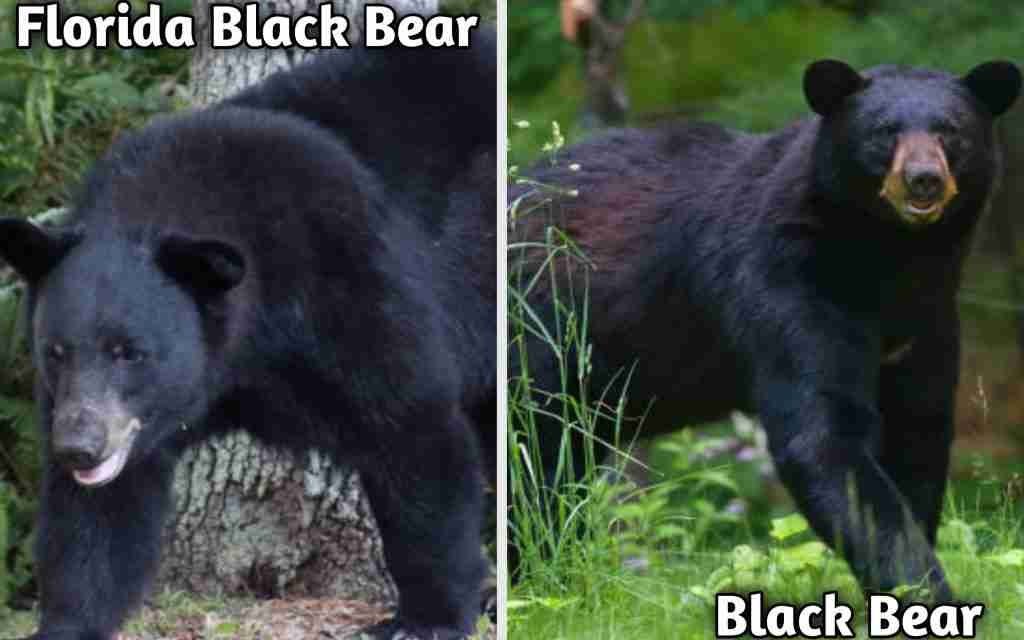 Yes, the Florida black bear (Ursus americanus floridanus) is slightly different from any other American black bear. Simply put, Florida black bears are one of the 16 subspecies of black bears in North America.
Florida black bears might look so much like any other black bear on the planet. However, they are still different. 
That's right! They have some differences in their skeletal structure as well as their genes. It's what makes them a subspecies along with the fact that they are found mostly in Florida.
In addition, all Florida black bears have black fur.
This is unlike most American black bears that appear not just in black fur but also in shades of brown, white, and bluish-gray. 
Recap:
It's now certain that black bears are common in Florida. Here are a few things to remember:
Black bears are about 4,050 in number throughout Florida. 
They were once endangered, but are currently no longer a threatened species. 
A greater population of black bears live in the central parts of Florida. 
These bears are active mostly during springtime and late winter in the year. 
Florida Black Bears are subspecies of the American black bears. And they have some differences! 
It's true that black bears rarely attack humans, but you should never try to play with these creatures.
Always keep your distance! Black bears are naturally not friendly and here's why!