Have you ever considered giving your friend a gift as a token of your friendship? Well, what could be better than panda friendship bracelets? You can have plenty of options when it comes to bracelets, but the panda friendship bracelet pattern is something interesting and more adorable. 
Pandas are cute adorable animals that symbolize love, affection, and lots of care. For this reason, we symbolize friendship with the beautiful and intricate panda friendship bracelet pattern that will not only make your friend happy but will also strengthen the bond you share with them.
The best panda friendship bracelet pattern has to be really appealing to look at and must come in good colors and cute patterns. "Before we give you the best panda bracelets, have you ever wondered what they symbolize?"
What do friendship bracelets symbolize?
The tradition of wearing friendship bracelets has been around for a long time. Essentially, friendship bracelets are a pair of matching bracelets that each friend wears or ties around her wrist. They are a representation of a unique bond between two friends and show how much they are connected to each other. 
To add to it, the panda friendship bracelet pattern has made this ritual stronger, and the fact that you can knit them on your own – what could possibly be better for your best friend, right?
Wearing a friendship bracelet is a small act but leaves a huge impact. It shows how much you cherish and value your best friends! These bracelets are a representation of the unique bond between the two kindred spirits. However, if you have more than one best friend, or if you are a squad, you can definitely follow one panda friendship bracelet pattern and design all your bands accordingly!
Panda Friendship Bracelets
Some of the best panda bracelets are as follows:
Red Panda Friendship Bracelet
By: NiniKnots
The bracelet follows a specific red panda friendship bracelet pattern that is handmade, having a tie closure. On one end of the bracelet, there is a hoop, and the other end has a free knotted thread to tie it. It is quite adjustable according to your size and essentially comes in length 9.5 inches and width 0.6 inches. Hence, it fits all sizes quite easily. 
The red panda bracelet is created using a DMC embroidery floss. It complements any outfit as the colors are light and aesthetic. On a green background, the red knitted panda adds an amazing combination to wear on any occasion as a symbol of your friend's love for you.
Since it is made from fabric thread, they do not irritate the skin, unlike metal bracelets that might cause allergy to some people. Moreover, they are light in weight and stick to your arm. You can wear your watch or other accessories with the bracelets quite frankly!
Why do we love it?
It does not irritate the skin
It is quite adjustable in size to fit your wrist
The colors are do not smudge or fade
It is washable
What to consider?
No return/ exchange policy
The inner side has a rough knitted surface
Panda bracelet
By: SimplyStringsStore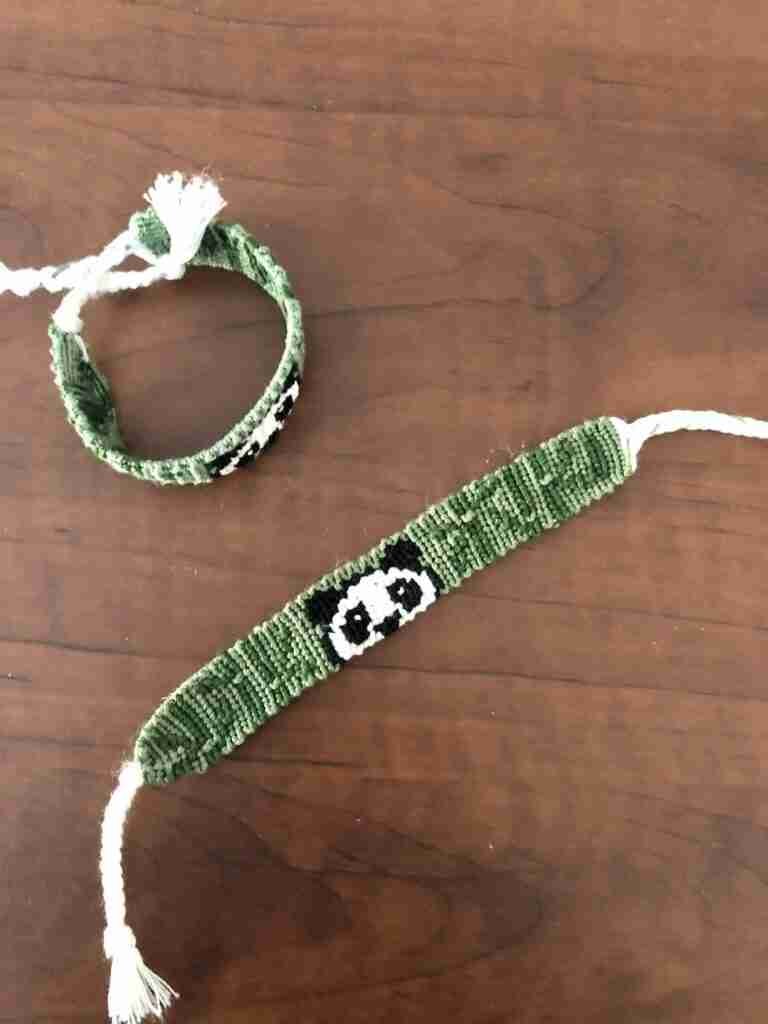 The panda bracelet knitted on a special panda friendship bracelet pattern has a length of 6 inches and is made from thread. It is of sufficient width to make it visible with your long-sleeved shirts as well. The bracelet is quite adjustable, with two long woven threads on both sides. You can tie them as per your arm size and the way you like it – tight or loose. 
The bracelet is knitted in a blend of green color and its variants. The black and white panda face just in the middle make it stand out more. It is the best token of love for your best friends, and the best part is, it is equally wearable for both young girls and boys. 
The fact that the bracelet is handwoven and comes from a high-quality thread, it does not lose its color with the passage of time. You can easily wear it around and can wash it with water. The material of the thread is quite skin-friendly and does not give you an uncomfortable feeling while you are wearing it.
Why do we love it?
The green color transition looks very appealing
The tie closure makes the bracelet a perfect fit
You can wear it on any occasion
Perfect gift for your friends
High-quality colored threads
Washable with water
What to consider?
The loose ends on the inside can get stuck with stuff.
Peek A Boo Panda Bear Friendship Bracelets
By: JustAnotherBracelet
The peek-a-boo panda comes in blue and maroon colors. You can choose whatever color you and your loved one like. The panda friendship bracelet pattern shows a panda bear peeking over the lower edge of the bracelet. It looks super cute and adorable. 
For the closure, the bracelets have two braided ties on both ends. The braids are quite neat, with small knots. You can tie them to the point that suits your size. It comes in a macrame style of knotting and is hand-knotted with lots of love and care.
The bracelets are made from very high-quality material. The thread quality is fade-proof, and you can easily wash it whenever you want. Hence, it is more convenient to keep and easy to clean. Hence, totally hygienic!
Why do we love it?
Macrame knotted bracelet
Dark colors and good to clean
Braided tie closures
Stain-resistant
Easy to clean and wash
The inside contains no loose ends
What to consider?
The tie closure ends are very brushy
String Bracelet
By: Knotilicious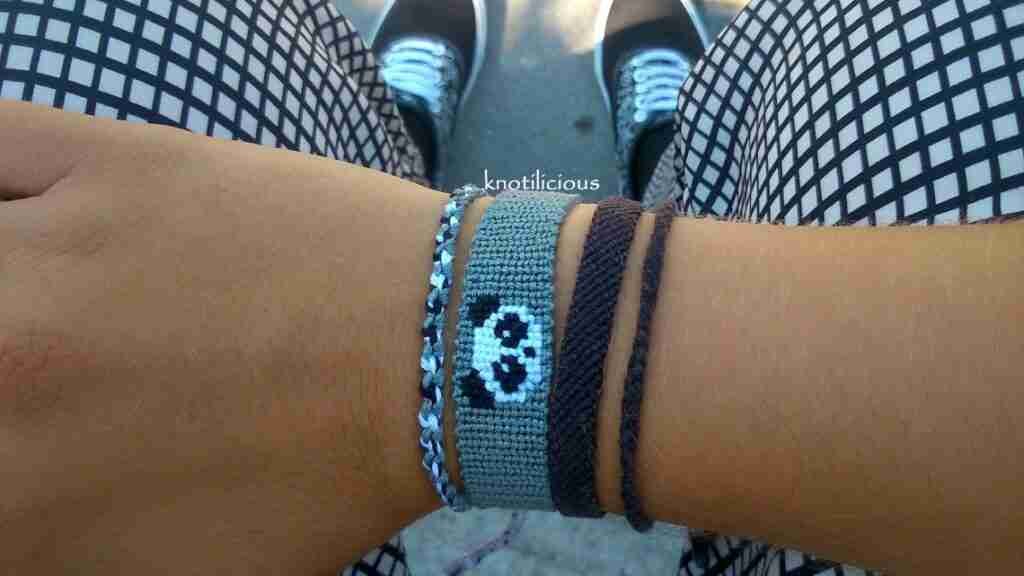 The handmade string bracelet with a special panda friendship bracelet pattern shows a minimalist style that can be perfect for anyone you love and cherish spending time with. It has an adjustable knot at the end and comes in four different sizes, such as extra small that fits children, small for adolescents and smart wrists, medium for average weight women, and large.
The adjustable knot has a sliding design that you can slide to and fro to adjust where it fits your arm size. They come in more than one style. For instance, you can get a thin bracelet to complement a wider one. 
You can get plenty of designs in different colors and patterns. Moreover, you can get your custom design as well. The bracelet can be worn with any type of clothing. It is easy to clean and does not irritate the skin.
Why do we love it?
Non-irritating to the skin
Adjustable sliding knot
It comes in different sizes
Can be personalized
Washable and easy to wear
What to consider?
The sliding knot might not fit all sizes
Hemp Cord Bracelet with Panda Charm
By: Mxdlcreations
The Hemp cord bracelet has a perfect panda friendship bracelet pattern. The bracelet is made of hemp and has the charm to put on the bracelet. It has an adjustable sliding knot at the end to make it fit your size. The cute panda charm adds to beautify it more.
The bracelet is very neatly made and comes in neutral colors such as brown and skin. You can wear it on any occasion, whenever and wherever you like. The fact that it is handmade makes it look more cute and appealing. You can gift it to your friend or a loved one, and they are going to love it for sure!
Why do we love it?
The cute panda charm makes it unique and different
The knots are highly intricate and neat
Easy to wash
It can be worn on any occasion
Adjustable cord as per your size
What to consider?
The cord closure may irritate some people
How Do You Make a Friendship Bracelet Pattern?
There is not only one way to make a friendship bracelet. Especially when it comes to the panda friendship bracelet pattern, you have plenty of options. However, if you want to learn to make friendship bracelets to gift your friends or loved ones, we have a few easier ones for you as beginners. Let's get started!
Alternating Half Hitch Bracelet for Friends
Cut two strands of floss (about 5 ft long)
Fold the strands in half and knot in the middle such that it makes a loop
Secure it at the end
Designate one Cord as Cord 1 and hold it
Use the other Cord (Cord 2) to tie a half hitch by moving it under the holding Cord 1
Tie a half hitch by using Cord 2 and move it under the holding Cord again
Pull Cord 2 to tighten it, and then you're done with the first knot.
For the second knot, Cord 2 acts as the holding Cord, and you have to use Cord 1 to tie a half hitch in a similar pattern. Continue alternating between this process for the whole length of the bracelet.
5-Strand Braid Friendship Bracelet
Cut 5 strands of floss (4 ft), fold in half, knot at the middle, and make a loop.
Secure it by using a table or tape
Arrange the Cords: three pairs on the left, and two on the right
Use the far left Cord pair as the working ones
Bring the working Cords over the next pair on the right side and then the next on the right.
Now pick the new working Cords from the far right and work right to the left in the same way
Repeat these steps alternating between the extreme left and extreme right pairs.
Diagonal Friendship Bracelet
Cut 6 ft long five embroidery floss strands and fold in half
Knot at the middle to make a loop
Tighten your know and secure it well
Lay out the Cords in an order
Star from the far left side and make a forward knot by creating a 4-shape
Loop the working Cords under the holding Cords and get them through the opening
Tighten the working Cords and repeat the forward Cord on the next holding Cords
Repeat the process for each Cord coming to the right until your bracelet reaches your desired length
Conclusion
The panda friendship bracelet pattern is an amazing one to follow for your bracelets. You can gift them to your friends, and wear them to every party or any other occasion together. Moreover, even when you are not together, these friendship bracelets symbolize your love and affection for each other. Hence, get your favorite bracelets today, and gift them to your friends!