Stop right there! We know you are planning to buy something cute? Or you want to buy something adorable for your mom, best friend, or your pet dog/cat?
Well, stuffed animals are the way to go! Plus, giant panda stuffed animals from Amazon would be even better if you or the one you are gifting it to loves animals. Don't worry; we got you covered!  After we tried and tested various giant panda stuffed animals on Amazon, we have carefully examined their quality, comfort (or rather comfiness!), and of course, their price.
Following are the 7 best giant panda stuffed animals on Amazon, exclusively for you. Sit tight, and maybe grab a cup of coffee because you are in for a ride! 
5-Ft Giant Panda Bear Embroidery (Pillow included)
By: Yesbears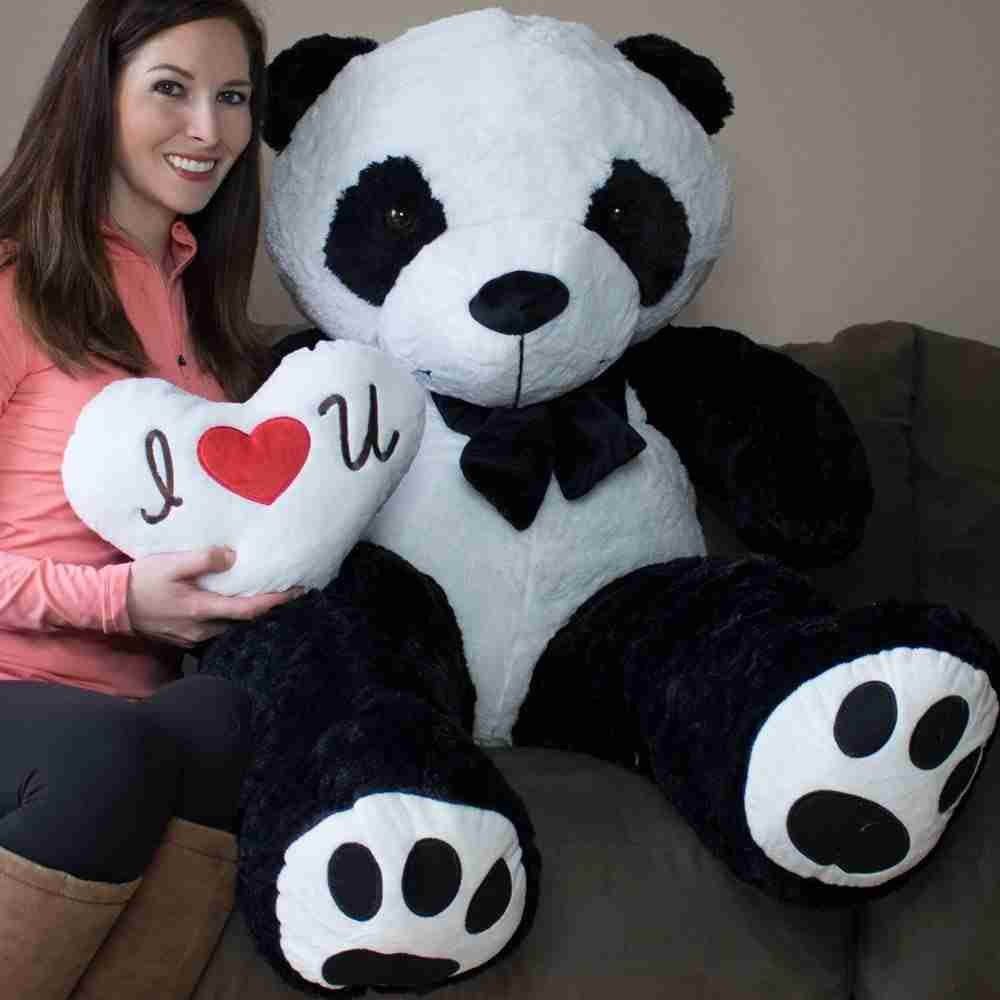 The first one on our list is a super comfortable stuffed giant panda made out of polyester fiber. You don't have to worry about the fiber shedding from this stuffed panda all over your clothes because that is not going to happen. 
Fun fact: this is as big as a real Panda (about 60 inches), so you might not even see the difference! You might be appalled at the price, but if you consider the value to be more important than cost, then you should get this one because it's pretty much going to last you for years.
You can use it as a backrest, cuddle buddy, or just sit with it on your couch while you watch your favorite show on Netflix! 
Why do we love it?
Environmental-friendly
Comfortable and lightweight
As big as a real Panda
What to consider?
The head may be too heavy, so it might not sit upright
Towards the pricier side
Super Soft Giant Stuffed Animal
By: Lovous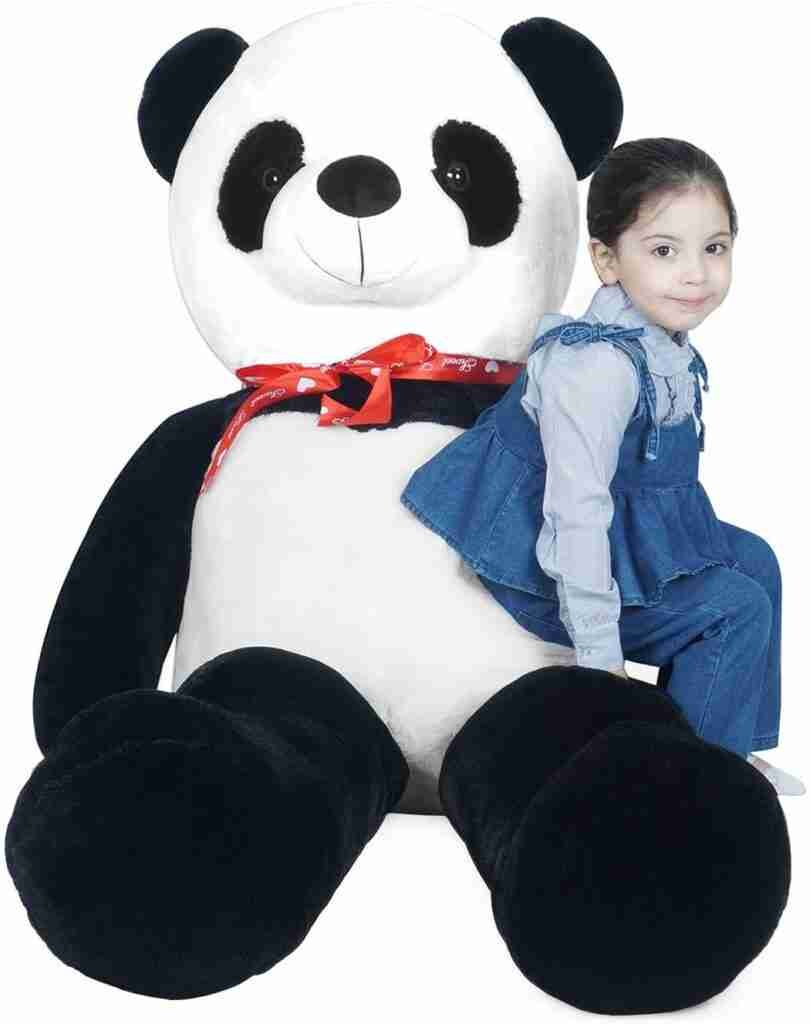 Say goodbye to lonely lights and welcome home a new 5.2ft buddy – trust us, it might as well cover your entire bed!
This stuffed giant panda weighs 7 lbs and is super soft. Being basic could be your thing, of course, but if you want to spice up things in your relationship, then you should gift your significant other this stuffed giant panda instead of flowers or jewelry.
This panda is made out of PP cotton, which is best for your health and level of comfort. Plus, it is one of the best purchases regardless of one's age, be it a kid, young adult, adult, or even elders. It can act as a a companion for young adults and adults, and a gift from home for parents or kids who live far away from each other. 
Why do we love it?
Lightweight and easy to wash
Bright colors and fur
What to consider?
The legs are extra long, so that might be annoying for you! 
Towards the pricier side
Panda Teddy Bear Stuffed Animal Plush
By: GUND Zi-Bo
If you want to go slow on your bank account but still get a cute and comfortable stuffed animal, this panda should be your go-to. It's available in 3 different sizes for low prices! 
The color pattern is dark navy and cream color. It pretty much looks like a real Panda – time to fool your 1-year old and make him feel like he is in a Zoo when he is not! Plus, the fact that it is creamy white and not straight white makes it hassle-free, as you wouldn't even notice if your kids make it dirty. 
The available sizes are 12, 13, and 17 inches, so select according to your preference! The stitching is precise and good, adding to the aesthetic. It might not be as huge, but if you want something comfy for your child, this is a great option! Plus, it doesn't even lose its shape too! 
Why do we love it?
Budget-friendly
Unique color 
Different size options available 
What to consider?
Has a yellowish color
The eyes may be lopsided
10 inches multicolor Panda
By: Aurora – Miyoni
This is another budget-friendly giant panda stuffed animal on Amazon! With exceptional quality and air-brushed details, this one does not fail to impress you. Since this is not substantially huge, your dog or any other pet would absolutely fall in love with it without ripping it apart.
Towards the feet, it has little beans which would be interestingly comfortable. The fact that this one is small and compact makes it extremely portable too.
If you are going out for a ride on your bike or even going on vacation, you can take this along with you because it will not occupy a huge amount of space. The face is super sweet and innocent too, might as well light up your mood if you are having a bad day! 
Why do we love it?
Budget-friendly
Easy-to-carry
Comes with a cute tag around its neck too! 
What to consider?
It may be too small for your preference
11-inch Baby Panda Plush Stuffed Animal
By: Melissa & Doug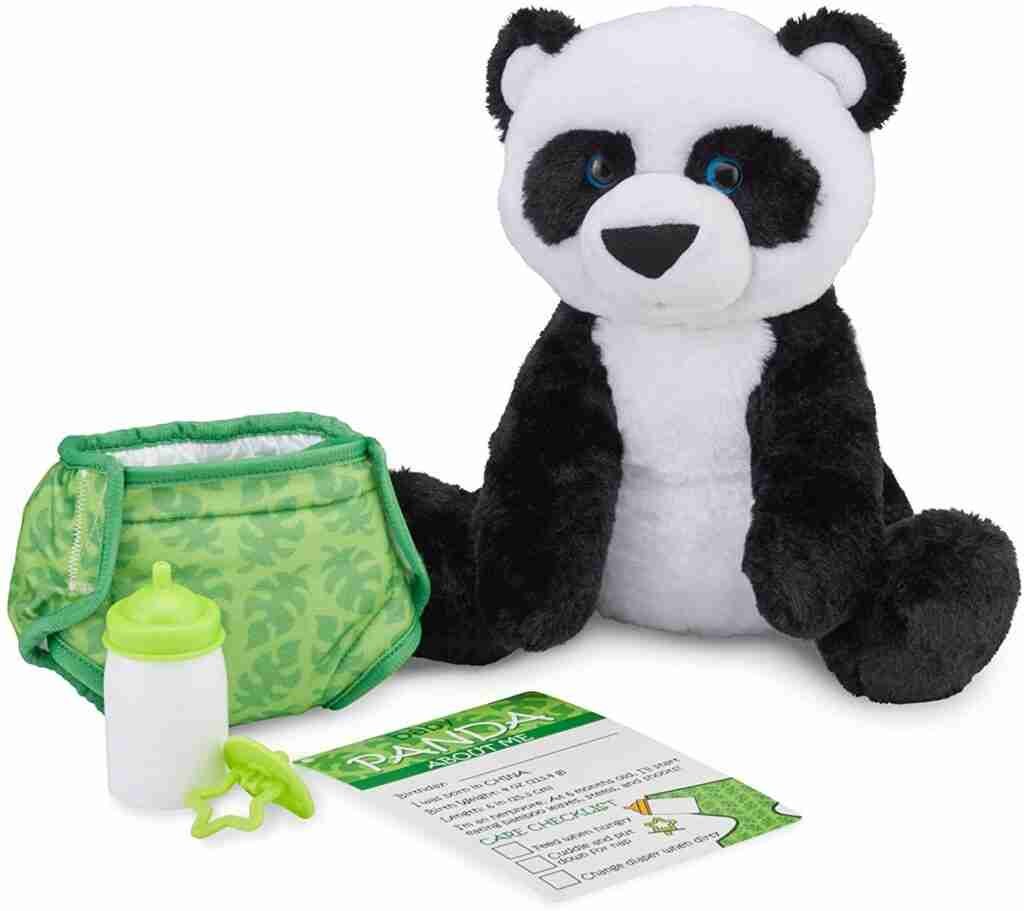 The list of pocket-friendly options of stuffed giant pandas just continues with this exciting product. Plus, this one is for all the parents out there looking for a companion for their kids.
This stuffed giant panda comes with a baby bottle that fits in the panda's mouth, a cloth diaper, and a removable pacifier. Let your child be the babysitter of this panda and let him have fun. You can even educate your child as it includes a care checklist, adoption certificate, and some fun facts regarding baby animals in the wild. 
Since this is 11 inches tall, it is best for children aged 2-5 years. Time for some fun and productive time with your kids, with revolutionized learning methods! 
Why do we love it?
Educative material comes with the package
Budget-friendly and packed with value! 
Adorable and velvety
What to consider?
It may be a bit small for you, depending upon your preferences
Melissa & Doug Giant Stuffed Panda
By: Melissa & Doug
This extra soft and realistic-looking giant stuffed panda on Amazon might be your new best friend! It is stuffed with Polyester making it softer than ever. This panda is over 2-3 ft tall and 3 ft wide, so it definitely looks and feels like a real one.
You can easily hug it too! It's not that squishy; it is kind of stiff, so that might be good for an adult as well. Since it easily sits upright, it does not need a lot of maintenance as well. It is ideal for a Christmas, birthday, valentine, or anniversary gift. 
Why do we love it?
Realistic
Stiff and sits upright
What to consider?
It may have some bald patches
Panda Stuffed Animal – The Original
By: Infloatables
This is the last giant stuffed panda on our list, but it is definitely not the least, primarily due to its attractive price! This giant panda is one of the best ones for your child since it is compliant with the USA child safety standards. 
Here is the exciting part: it comes with a gift wrap around it along with a birth certificate for its new owner to fill out. Sounds exciting, right? There's more to it as well! This giant panda's paws are special with dry erase on them!
You can personalize it with anything using markers and have fun! It has a sweet face that will leave you in awe despite your age, because yes, age is just a number, especially when it comes to stuffed animals. 
Why do we love it?
Dry erase special feature
Budget-friendly 
What to consider?
It may be comparatively small for you
Related Questions for Buying Panda Stuff Toys
Where to buy Giant Panda stuffed animals from?
While there are many physical stores where you can get giant panda stuffed animals from, we would recommend getting them from Amazon.
Plus, Amazon offers shipping within 1-2 days so you can get your package almost instantly. Their customer service is outstanding and they also offer free returns for some of their products. 
This is primarily because of the current pandemic. Plus, Amazon has some of the most valuable and budget-friendly options to choose from, as highlighted above! Happy shopping! 
Other online stores where you can buy stuff toys from include: 
BarkBox
Crate and Barrel
Bellzi
Overstock
How do you clean a giant stuffed panda?
It is imperative for you to wash your stuffed giant pandas correctly without ruining their outer and inner layer. There are many appropriate ways for you to do so: 
1st method: Use Washing Machine
Use a washing machine: 
First, set your machine on the gentle cycle setting or the hand wash mode. 
Then, put your stuffed animal in a mesh bag or pillowcase for added protection against the pressure.
2nd Method: The Traditional Way
Traditional way: Fill up a container or sink with lukewarm water and add your detergent to it. 
Wash the stuffed animal gently using your hands, and then let it soak for 20-60 minutes. 
Rinse it using clean water and let it dry. 
Can you put stuffed animals in the dryer?
Yes, you can put stuffed animals in the dryer. You have to select the gentle setting along with the lowest possible heat. You should also put the stuffed toy in a mesh bag or pillowcase and then put it in the dryer for added protection. 

Conclusion:
Well, we hope that we helped you find a great gift for your loved ones or even for yourself. Remember, self-care is imperative! Happy shopping and good luck!

Do you need some name ideas for your panda stuffed toys? Click here to get ideas.
Below is a Pinterest friendly-photo… so you can pin it to your "Panda" Board!