What can you possibly gift a newborn baby or your friend who's expecting one? There can be a lot of options, but having to choose something cute and adorable takes some effort.
For babies, girls, or women who love cute little things, gifting a panda blanket could be a great idea!
In this article, I will give you the 5 best panda blanket pattern that you can follow easily. Don't have time to make one? I've got you covered. Read until the end to check the cutest crochet blankets.
5 Best Panda Crochet Pattern on Etsy
Panda Crochet Pattern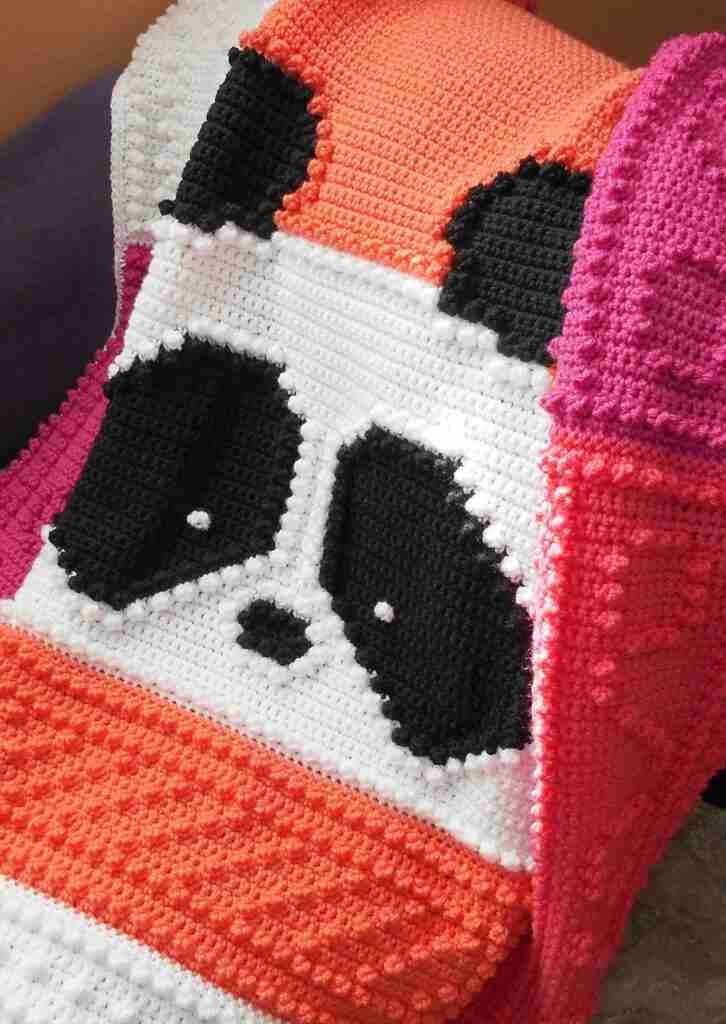 The first pattern that we talk about includes only three crochet stitches to make – these include chain stitch, single crochet, and popcorn stitch.
This sort of panda blanket crochet pattern involves working out separate pieces by simple crochet techniques and then putting them together. However, you can definitely make it in the piece, but several pieces of smaller dimensions are easier to make!
You can customize the crochet patterns just as you want by using different yarns in different colors. 
Hooded Blanket Wrap Pattern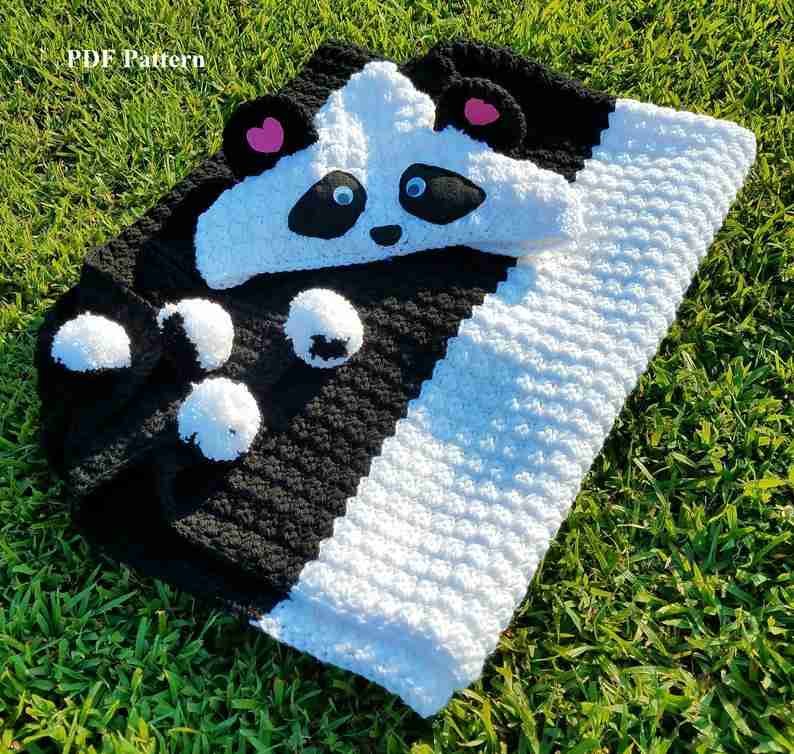 The hooded blanket pattern is a bit different than the ordinary one. It consists of the very basic crochet stitches that give out the best panda blanket crochet pattern.
The main stitches involved in a hooded blanket wrap crocheting are single crochet, half double crochet, double crochet, and slip stitch. All of these together in a certain form make up this sort of blanket.
If you don't know how to do this, you can watch videos and learn how to crochet cute panda blanket crochet patterns for kids and newborns.
Intarsia Crochet Pattern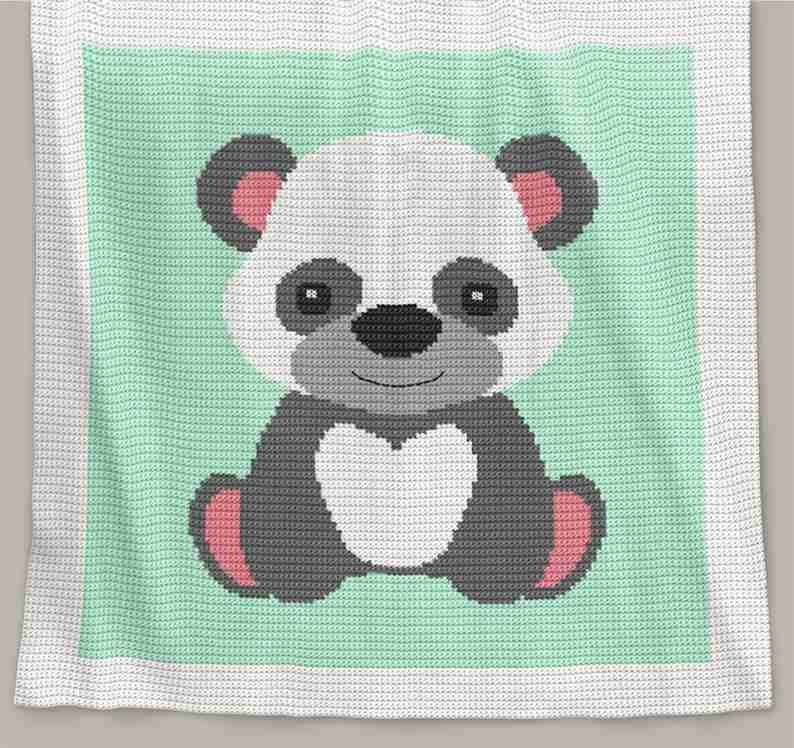 This type of crochet demands you to be able to knit in single crochet intarsia stitches. The intarsia stitches use multiple colors within the same row. This requires a proper graph to follow so that you do not make any mistakes.
The intarsia panda blanket crochet pattern requires a crochet hook and a tapestry needle. 
The intarsia crochet patterns tend to play with the colors and are the best gift for someone who loves colorful things. Moreover, you can choose the scheme just as you want or desire. 
C2C Crochet Pattern
C2C stands for Corner to Corner. This type of crochet pattern is quite famous all over the world and is adored for its fineness. It looks quite appealing and different.
You can use different colors to make the patterns that you intend to make with the crochet. If you are rather new in crocheting, a corner to corner way is more straightforward and helpful. This is one of the most basic crochet patterns that you can use to knit blankets. 
It is the best stitch to learn if you are someone who is all new in the crocheting market. If you do it right, you might be able to learn chain and double crochet stitches quite easily. 
Sweet Crochet Pattern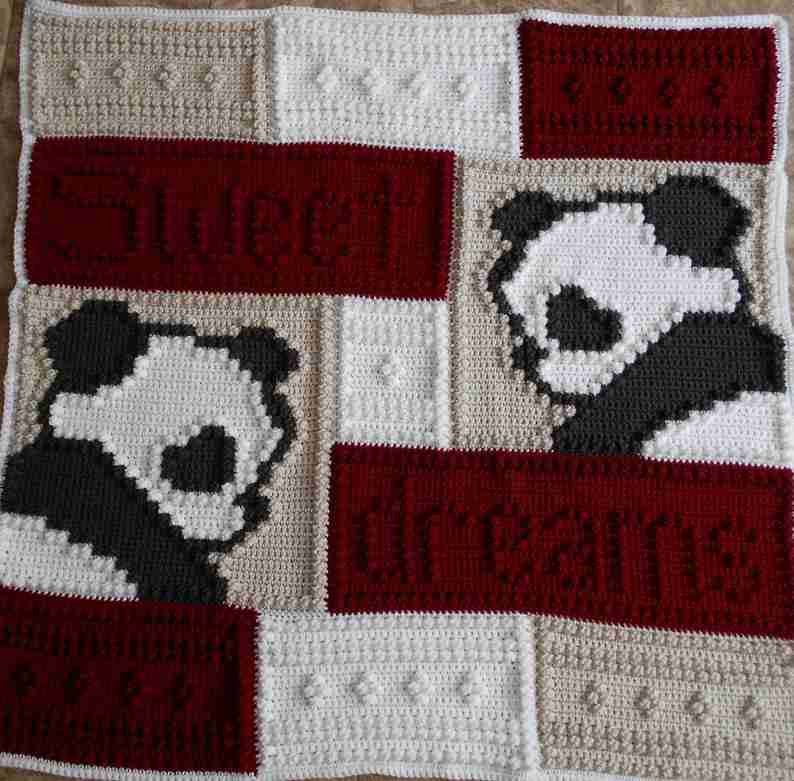 The sweet crochet panda blanket pattern does not seem to be an easier one. However, when you learn it, there is no point that it irritates or annoys you.
Moreover, the sweet crochet pattern consists of different pieces that are woven separately and are made or put together.
It writes sweet dreams in two pieces and makes two panda bear faces on these sweet crochet patterns. You can customize it on your own, but it offers the best and the easiest crochet pattern. 
3 Best Panda Blanket Crochet to Buy on Etsy
Crochet Panda Blanket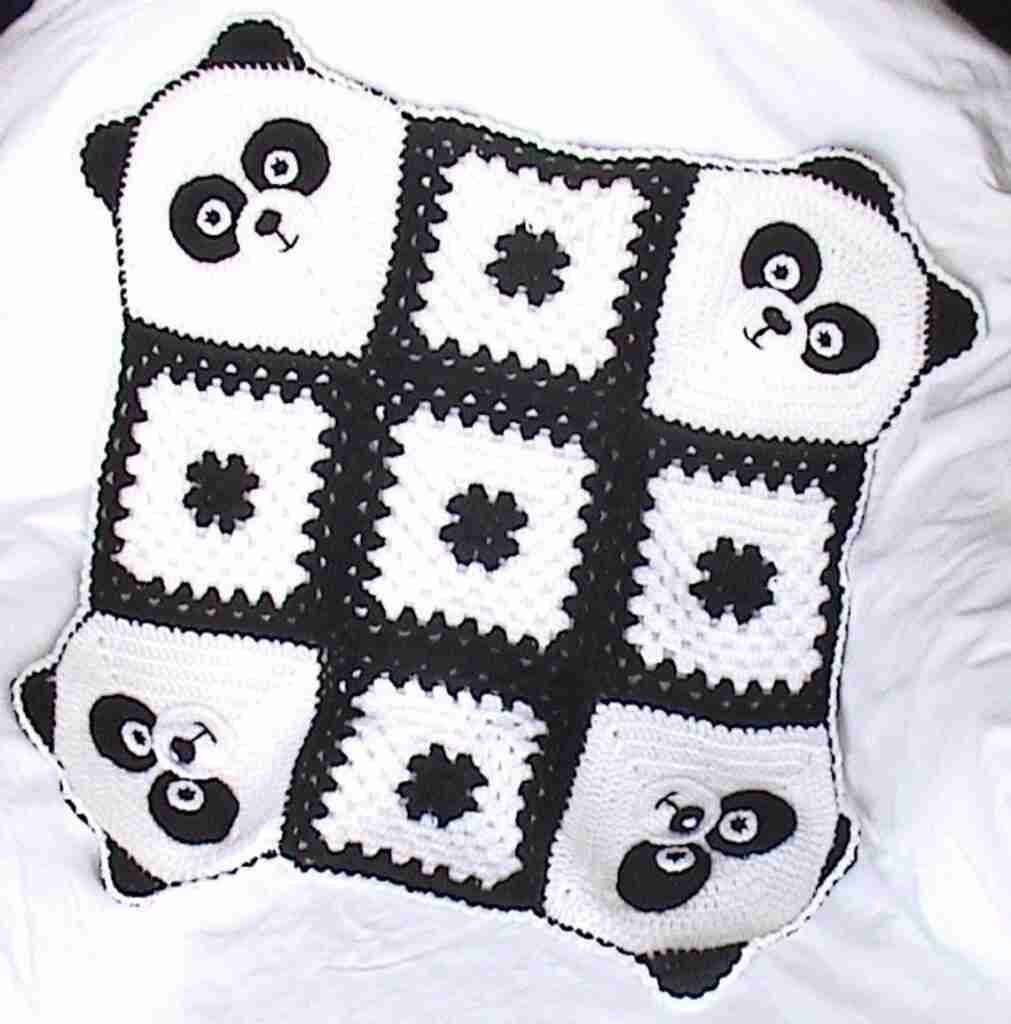 By: NPhandmadeCreations
A stroller or travel blanket is always the best choice for babies. You can gift it to the mother-to-be at her baby shower. It is black and white in color, which makes it perfect for both baby boys and girls. It is a square-shaped blanket that is very neatly woven.
This panda blanket crochet pattern is quite unique, with four panda faces – one at each corner. It is perfect for your child's photographs. The dimensions are 25 x 25 inches that are perfect for newborn babies.
It is made from very fine acrylic and wool material. Hence, it won't fade or smudge on washing. These blankets are custom developed, and you can choose the colors and shapes quite easily.
Why do we love it?
The blanket can be hand washed and machine-washed easily.
The acrylic and wool material makes it warm
The colors are very bright and neat
You can get the blanket customized as per your desire.
What to consider?
The size is only suitable for babies
It might take a long time to deliver in the USA
Panda Bear Afghan Blanket
By: BabyMonkeyCrochet
This afghan blanket is one of its kind, with a lovely hood to cover the head. It is made from pure wool, which makes it pretty warm. It is 80 x 75 centimeters in dimension, and the hood is about 30 x 14 cm. The untreated wool yarn gives it a very cozy and soft feel. 
You can easily hand wash the blanket at less than 30-degree Celsius temperature to keep the wool fibers intact. Later on, you can dry it on a flat surface.
The panda blanket crochet pattern comes in blank and white color with the panda face on the hood. However, you can get it customized according to your requirement.
Moreover, since the blanket is handmade, no toxic materials or chemicals are used. Hygiene and clean environments have been kept under special considerations. It is a perfect gift for anyone with a cute gift card that adds to the lovely gesture.
Why do we love it?
It can be hand washed and dried easily
The wool fibers make it warm and soft
It is perfect as a gift
You can get it customized
They are hand made crochet patterns
There are no shipping charges for this product
What to Consider?
The hood size should be a bit larger for chubby babies
It might take up to 2 weeks to deliver out of Sweden
Panda Throw Blanket
By: SusieBHandicraft
The Afghan panda blanket drapes beautifully due to the softer and high-quality synthetic yarn that is used to knit it.
It comes in different sizes that range from 25 x 32 inches to 27 x 34 inches and anything in between. Since they are custom knitted, you can order as per your size and requirements.
The panda blanket crochet pattern is handwoven with some single crochet stitches in the middle and double crochet stitches at the borders. This makes it more appealing to look at. It can be used for multiple purposes – both by children and by adults. 
Additionally, it available in a number of colors such as pink, yellow, orchid, plum, blue, and green. You can hand wash it freely or in a machine at gentle cycles. It can be dried on low heat or air-dried in a machine or without it. 
Why do we love it?
The blanket is very soft and warm
It is available in many colors
The blanket has a bigger size to be used for adults as well
It is a multi-purpose panda afghan
Comprises two types of crochet stitches
It can be easily washed by hand or in a machine
What to consider?
Synthetic yarn can be replaced by natural yarn.
FAQs:
What Is the Easiest Thing to Crochet for a Beginner?
Panda blanket crochet patterns are not difficult for a beginner since they involve only a few basic stitches.
These include Slip Knot, Chain Stitch, Single Crochet, Half Double Crochet, and Double Crochet stitches. All you need is a little practice, and you'll be able to crochet your own blanket very easily.
How to Crochet a Baby Blanket in 2 Simple Ways?
For beginners, there are two simple ways in which they can make a baby blanket.
Single Crochet Blanket
Double Crochet Blanket
Single Crochet Blanket
STEP 1: Make a foundation chain with several chain stitches (ch). Let's learn how to do it:
Make a slip knot.
Loop the slip knot over the crochet hook
Hold the hook and pass the yarn from back to front (yarn over or yo)
Now pull the hook and the wrapped strand of yarn
Pass them through the original loop on the hook to make one chain
Continue this until you have what a number of chains
STEP 2: Crochet the first row.
Begin with the second chain and make some single crochet stitches all along its length.
STEP 3: When you have made the first row, make a turning chain by crocheting one chain stitch. Use this stitch to work on the second row.
STEP 4: Flip over the work with the crochet hook at the right, and the last stitch of row 1 becomes the first stitch of row 2.
STEP 5: Now after inserting the hook into the first stitch, continue all the way to the end of the row with single crochet stitches.
Continue this process until you have reached your desired length.
Double Crochet Blanket
STEP 1: Make the foundation chain with several chain stitches just as described above.
STEP 2: Using the fourth chain from your hook, work double crochet stitches running along the foundation chain's length.
STEP 3: Make a turning chain with three chain stitches and consider the chain stitches as the next row's first stitch.
STEP 4: Flip over your work with the crochet hook on the right side. 
STEP 5: Skip the first stitch and insert your hook into the second stitch of row 1, and continue all the way to the end. 
STEP 6: Make as many rows as you want and finish off with an appropriate border.
Conclusion
The panda blanket crochet pattern is something exciting new to learn. You can learn crocheting with a bit of practice, make something adorable with cute panda patterns, and gift the blankets to your friends and family as a gesture of love.
Handmade things are generally the best gifts for your loved ones. However, if you need a little practice, you can order them online and gift your friends with all the love and affection.